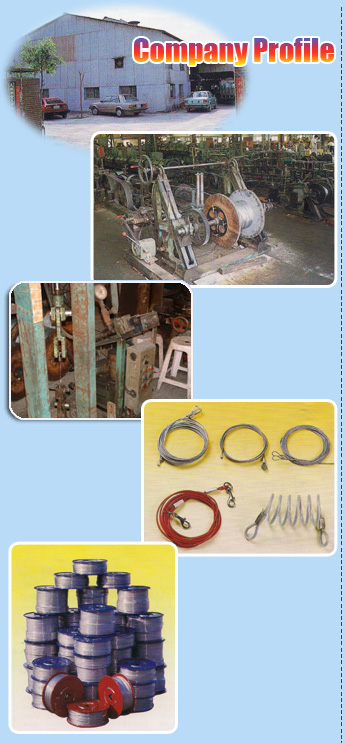 Wirop Steel Wire Rope Industrial Co, Ltd established in 1978. "Wirop" is a symbol of quality Aircraft Cable, Inner Control Wire, and Fine Wire Rope with diameter from 0.2mm to 12mm and specification 7x7, 7x19, 6x7, 6x19, 6x24, 1x7, 1x12, 1x19, as per MIL, ASTM, JIS, CNS...etc, specification . We provide prompt delivery at competitive cost of reels, coil, vinyl coated and cut lengths with assemblies for customers' convenience.
"Wirop" sell a concept " A partnership in profitableness." To our customers our engineers offer service in the proper selection for customers' application. We do our best to demonstrate loyalty, fiscal responsibility, concern, good business, conduct, dependability, knowledge ability, and team spirit thing we feel will make you seriously consider us as a "partner".
Our factory have many machine equipment such as wire twisting machine, wire drawing machine, vinyl coated machine, stamping press machine, wire tensile strength test machine.etc, All of our products are under good quality control.
| | |
| --- | --- |
| | GALVANIZED OR STAINLESS AIRCRAFT CABLE |
| | FINE GALVANIZED OR STAINLESS STEEL WIRE ROPE |
| | NYLON OR (PVC, PE, PU) VINYL COATED GALVANIZED AIRCRAFT CABLE |
| | GALVANIZED AIRCRAFT CABLE ON SMALL METAL REEL |
| | INNER CONTROL CABLE |
| | FIXED LENGTH CABLE WITH SWAGED FITTINGS (TOW CABLE. TORSION CABLE.GARAGE DOOR CABLE. SELF-COILING CABLE, VEHICLE CABLE...ETC |
WIROP STEEL WIRE ROPE INDUSTRIAL CO, LTD.
351 Tashe Road, Tashe District., Kaohsiung City 81546, Taiwan, R.O.C
Tel : 886-7-3513872~3
Fax : 886-7-3512926
e-mail:wr@wirop.com or wp@wirop.com
Web site :
http://www.wirop.com